I have been terrible at updating this blog.  Life has gotten the best of me lately, and we have been so busy!  On April 03rd my parents, my newborn son, my three dogs and myself loaded a Toyota Avalon with a number of suitcases, two dog crates (one folds down), a bouncy seat, three or maybe four suitcases, and a load of other stuff into the trunk.  We only had to get to Kennewick, WA (A three hour trip) because we were going to change cars with my sister who had so kindly loaned us her Sequoia.  Believe it or not we were still crammed and I have no idea how it all went into the car in the first place!  I still have so much stuff at my house in Oregon, and my parents are so kindly going to ship it.  Four months is a long time to be anywhere, and its amazing how much stuff comes along with the birth of a baby.  We drove straight through and made it to Denver in 23 hours.  Kevin was so excited to see us, I think it was the longest three and a half weeks of his life. My parents stayed for five days and then had to head out to beat the spring snowstorm that was headed our way.  It was too quick a visit, as usual.  It was really hard to see them go, and  I know it was hard for them too.  They had a really special time with Jameson and myself.  I was so grateful for their help 24 hours a day, seven days a week.  It made the transition in my life and recovery much simpler.  After my parents left, the next day Kevin's parents arrived to meet their new grandson.  They stayed for a few days, and so we still got parental help.  

    They headed back to Oklahoma and we flew down last Wednesday because he was speaking at SNU (Southern Nazarene), not in chapel, but to the Int'l studies majors and also to visit Kevin's grandparents.   Jameson is their 11 great-grandchild (wow!) and their first grandson to carry on the Archer name.  It was so fun to see them and to hear them call him "Mr. Archer."  We got to spend a really nice day in Sayre, OK, a tiny little town in Western Oklahoma hanging out with Grandparents, Uncles, cousins and friends.  
     Last night we headed back to Denver, where hopefully we will be until our family vacation in June to Myrtle Beach, South Carolina with the Archers.  I am so excited!  I have never been to an East Coast beach.  
The top highlights this month include:
Learning to sleep anywhere (oops, bad momma)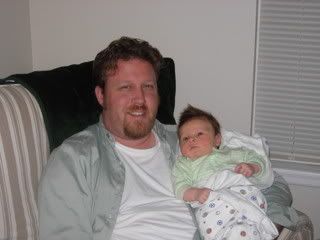 Hanging out with Daddy
   I am going to really work hard on posting more often, because Jameson is just too cute, and he is growing and changing everyday!   I love reading everyone else's blogs, so its time I contribute as well.