I have to confess, while pregnant I thought my son would be born bald. Both Kevin and I have a ton of hair. Stylists tell me I have enough hair for ten people, and those who have felt it can say the same, and Kevin certainly isn't going bald anytime soon. So, when people predicted that Jameson would have lots of hair, I figured nah, he is going to be bald as a billiard ball just for the irony. Imagine my surprise when out popped a FULL head of unruly dark hair.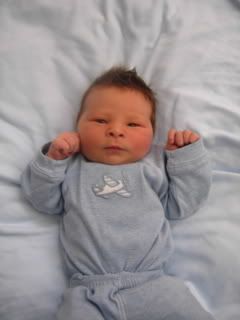 Well, 8 weeks later it still is imaginably unruly although not so dark anymore. From the time he was born it has stuck straight up into a very cool 'do. At first, it was a "faux-hawk" kinda short and he also was born with "copper" tips. I kid you not, although I haven't really been able to get it captured on film. He had the coolest little hair-do. I assumed it would get a bit longer and lay flat or fall out and begin again. So far, I have been wrong on both accounts. It just gets longer and longer, its no longer a faux-hawk but a full fledged Mohawk with copper tips. After baths I comb it down, which makes a funny looking dome of hair and by the time it dries it is sticking straight up again. I suppose it is only appropriate that he has unruly, ridiculous hair. My siblings joke that I had a helmet of hair as a little girl (thanks to the bangs that started halfway back my head) and Kevin's hair doesn't really lay down well either.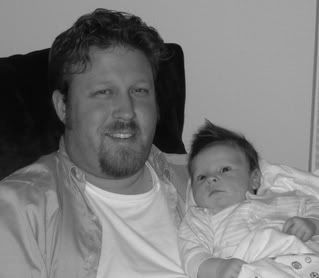 It looks like Jameson is going to have the same kind of hair, and I LOVE IT. I love to touch his hair (as does everyone else, no one can resist, not even strangers), its like he is one of those troll dolls that were so popular when we were young, and you rubbed their hair for good luck. I love to stick my nose in his hair, and take in a big whiff of baby smell mixed with his baby shampoo. I like to try and get it to lay flat, and watch it stand back up again and I love that people actually ask if I put "product" in it to make it stand up. Ha ha, yeah right. That would be lame. I love that since he sleeps mostly on one side of his head he has this little bald spot there. And I love that his hair is growing so fast that my son will soon be sporting a pretty cool mullet. By the time we go back to Vienna in August he should be prepared, between the faux-hawk (way euro) and the mullet, (still a very cool hairstyle in europe, thank you very much) to fit right in.
The cool mohawk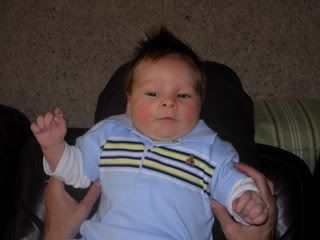 Look at that growing mullet!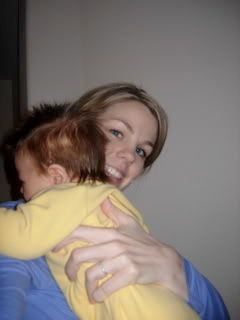 Maybe there is hope for his hair, Kevin and I didn't turn out too badly.
Daddy's hair
Mommy's Hair
Jameson's Hair
On a different note, Jameson slept in his crib all night long both last night and the night before. I wasn't quite ready to have him in his room, but he made the decision for me. He is too long for his bassinet and he likes to stretch out, so he wasn't very comfortable. On Saturday night/Sunday morning he slept from 8pm-3:30am skipping his midnight feeding. I kept checking on him, and when Kevin came to bed I had him check on him. It was not a good night's sleep for me. Finally at 3:30 he woke up, I fed him, and decided he sleeps more comfortably in his bed where he has more room, so I put him back. He slept until 6:30 am. Like I said, I wasn't ready to have him down the hall, but he is just too big for his bassinet. He slept there again last night from 7:30-3:30 until 7:30. Now if only I could get his time adjusted just a bit so that he sleeps from say, 9:30-6:30. Any advice?