Jameson is two months-old today, and honestly, I cannot believe its already been two months since he was born, but at the same time it feels like forever. We are so lucky to have such an amazing little baby. He is "talking" up a storm and I never get sick of listening to him, mostly because he ends up cracking himself up. He loves singing too, although I hope he doesn't listen to me too closely because I am a horrid singer; he, however, doesn't seem to realize that. Here is a video of him talking to me. He has to concentrate really hard sometimes to get the sound out, and it makes me chuckle.
Every morning when Kevin (AKA Daddy) gets out of bed everyone else hops in except for Jameson who is carried in by me, and this is what it looks like. Lulu IS in bed, she just likes to lay at the end of the bed. Jameson is beginning to like the dogs, and the dogs really love him too. It makes me laugh when they kiss him every morning.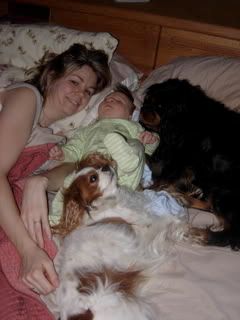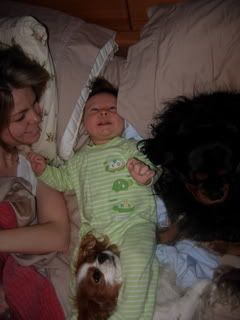 Today we went to visit Kevin's grandpa. Jameson is so lucky because he has three great-grandparents. Jameson wasn't on his best behavior, unfortunately, because he only napped in the car for a little while, but we did manage to get a really good picture with grandpa. Jameo's hair just keeps getting longer and longer and it looks really funny in this picture, but thats pretty much what it looks like on a daily basis, hence the reason everyone makes comments to me.
The rest of the weekend, we are just cleaning out all the extra stuff we have around our house trying to get more organized, should be a fun day. Hopefully, Jameson will nap well tomorrow so I can be productive.