Our house is on the market. We are trying to move closer to the center of Denver. We don't really like the "suburban hell" of Littleton, CO. Why, you ask, then did you move there in the first place? Just to let you know, we are asking ourselves that very same question.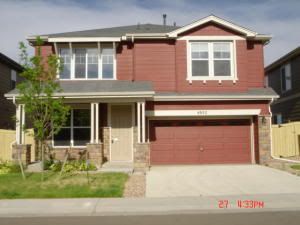 First of all, we really love our house. Its a great floor plan, has lots of room, and it was only 18 months old when we bought it. Secondly, Kevin had lived in a house that was built in 1935 in San Diego, and he really didn't want an older house. All the houses we looked at in Denver are older, and therefore require more maintenance, which made us think we wanted a new house. On the positive side of that, we will be only a mile or two from the University of Denver and we are hoping to get a student/property/dog manager in the house when we are gone. Thirdly, we didn't think it would take SO long to get to downtown Denver and assumed we would go more often. We talked about getting season tickets to the Rockies (before they went to the world series) and imagined ourselves down there all the time. To this day, I have only been to downtown Denver 7 times in the three years I have lived in CO and three of those times were to get my haircut, two times were concerts, and one time we just hung out at the Rock Bottom Brewery with friends. Sad, that's just pathetic and I am so not appreciating my new home state. Ask me if I have been to Vail...or Aspen...or Breckenridge...or Beaver Creek. Nope to all of the above.
Anyway, apparently, when we are in town we really like being home, which makes sense, so we are trying to move our home more towards the center, so that we can enjoy all the awesome things that Denver has to offer. Hopefully, our house will sell and we can find the perfect house, but we are not opposed to living out of our suitcases until we go back to Vienna. Which brings me to our next big change!
Vienna, Wien. My adopted home. I miss it desperately when I am away, but cringe at the thought of leaving in a mere 6 weeks. Last year, when I was pregnant, I kept imagining the city with a baby in tow. Every time I easily walked out of the apartment, I imagined strapping Jameson into his stroller, and waiting for the excruciatingly slow elevator, but then wait, at the bottom of the elevator are five more stairs that I have to maneuver to get out the door, do I take the baby out and carry both down? Do I turn it backwards and bump the stroller down each stair? Once onto the street, I would watch the women with babies, how difficult it was to get onto a strassenbahn (street car) and having to rely on the, sometimes reluctant, help of strangers. Will the supermarket be more or less difficult with a stroller, which, by the way, has a great shopping basket, but still, those supermarket aisles are teeny. Will I still like cruising the streets of Vienna as much when we are dodging hordes of people, barking dogs that belong to the goth kids, and crazy drivers or will I decide its too difficult? I am excited and nervous to be in Vienna with a baby and all alone after Kevin leaves to teach at DU. Although, each year I see thousands of mothers doing their thing each day in the city, so I don't imagine it will be so different for me. Maybe it will be easier in some ways than having to drive around with a baby. I hate pulling him out and putting him in his car seat time and time again. It makes me want to complete only one errand at a time (not very gas friendly), although he is a great little rider. Around this time of year, I begin to feel my blood pressure rising and my head filling with swirling thoughts of what needs to be accomplished before we leave. Luckily, we got our passports all taken care of and returned. I now have a passport in the name of Archer. Yippee!! My passport wasn't expired until 2010, but traveling with Jameson, I just felt it would be easier if we were under the same name. His passport is downright funny. It looks like a little mug shot, and what I find even funnier, is that this picture taken when he was 3-months old is good until he is 5-years old! He won't even look like the same kid!
Vienna's National Library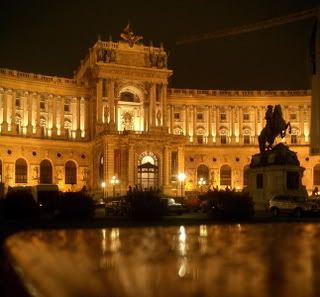 Another big change: we got a new car! The lease was up on the jeep, so we turned it in. We really wanted a hybrid, but we feel that in a few years there will be so many more options available, and the prices will be better as well. We did get a car with better gas mileage, and it has so much room! Kevin can fit much better in this car than the jeep. We got a Ford Edge. We figure when the lease is up in three years we will spring for a more fuel efficient car. If we move to Denver, we won't be driving as much, and since we are gone so often, we drive less than the average family, anyway. Its so nice to have a brand new car! I love it!
Jameson had a doc appt. yesterday. He was 26 3/4 in. long (96%) and 16 lbs. 12 oz. (88%) and the doc said he was perfect. I agree, but I am biased. He has hit all of the major milestones and has begun working on the next phase. I am so enjoying this little guy of mine. He is such a happy fellow. He rarely cries, sleeps like a dream, eats well, loves people, and is flexible to our sometimes, crazy schedule. He seems like he will be sensitive and caring, and he seems to think he is the funniest kid around, because he is constantly cracking himself up. His giggle is my most favorite sound in the world. He loves when I talk and sing to him in german. He loves watching his dogs and beckons them to come closer so he can wrap his little fingers around their long fur (the dogs have started to learn to stay out of hands reach). I think he will be a major talker like his dad (and ok his mom too). Honestly, out of the hundred -plus kids that I baby-sat at one time or another he is the easiest baby I have ever known. I don't know if that is because he is mine, or because he really IS that easy. Kevin and I talk constantly about how much we are getting spoiled by him. I tell Kevin that this is not a normal baby, that he is SO easy. I worry our next one will be more difficult and we won't know what to do. I cannot believe he is already 4-months old!
Jameson and me at Balboa Park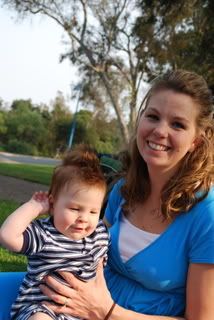 Its been a crazy week! I think the summer is only going to get busier! A few more pics to come soon.